61754550 Sleigh Bed "Madera Sleigh Collection" Master Collection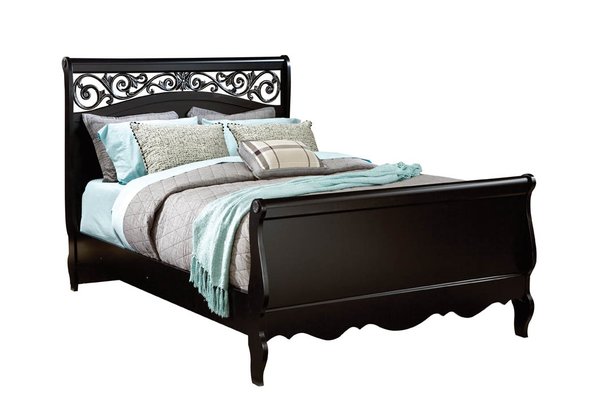 61754550 Sleigh Bed "Madera Sleigh Collection" Master Collection
Sleigh Bed "Madera Collection"
Bed Available in Queen and King Sizes
Package Price Induces: Queen Sleigh Headboard,Sleigh Footboard, & Rails(Available in King Size)
Optional Pieces: Dresser, Mirror, Chest and Nightstands.
The scrolled balcony rails of old Spain are recreated with Madera Bedroom's stunning details.
DETAILS:
• Outstanding design features include scrolled inserts, sinuously shaped base rails and toe plates, map drawer look on all cases plus waist rails for added emphasis, • Focal point Bed and Mirror crowns feature intricate scrolled inserts finished with silver color tipping, • Storage cases have rich Marbella tops, having the look of sumptuous black marble with light veining. • Cast metal hardware bails, knobs and escutcheons are finished in an antique pewter color that compliments the scrolled grills and Marbella tops.• Madera has the sturdy folded case construction, with quality engineered wood products and paper veneer laminates finished in a subtle ebony black paint color.
Reviews